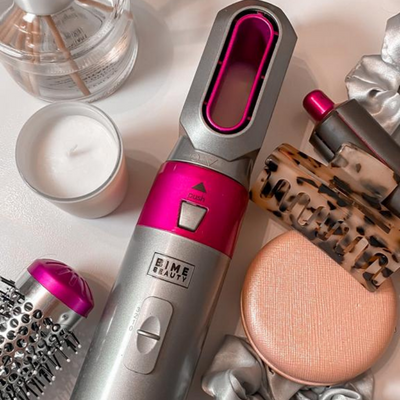 Styling Tips For Our 5 In 1 Hair Styling Tool
Are you also tired of using different tools to style your hair for various occasions? And have you also run out of space to store them anymore?
It can be pretty daunting when you can't find the right head for your hair dryer because it is buried somewhere under the heap of hairstyling tools and equipment. Don't worry though, because this super cool invention is here to save the day!
This 5-in-1 hair drying and styling tool by BIME was a game-changing purchase for me. I got rid of my hair dryer, straightener, curler, straightening brush, etc., and treated myself with this.
It doesn't take up much space, and you literally get everything that you can possibly need to style your hair, in one! This one-stop solution for all your hair-styling problems is a must-have. Let's check out the ways you can use it to create stunning styles!
What BIME 5 In 1 Tool Offers
This life-changing hair tool will become your one-stop solution to all your hair styling malfunctions. If you don't know how you are going to tackle your frizzy and volume-less hair, BIME has got you covered,
Giving your hair ultimate volume and shine, this hair tool can be used to brush, curl, dry, and straighten your hair and give them the sleek, or fun look that you desire.
Get ready to flaunt those beachy waves, or a bouncy blow dry at your next dinner party, and the best thing about it? It takes only a few minutes to style your hair in a super stylish creative way!
For beginners, it may take a few tries to get the perfect look, but that's it. Once you get the hang of it after a few tries, you will fall in love with this product.
The product comes with a main motor wand and 5 different heads for different looks. You get the Hair dryer head for your blow dries, a Curling Iron Rod, a Half-angle comb head, a Curly Round Comb Head, and an Automatic Hair Suction Comb Head.
With the latest heating technology, it doesn't damage your hair much, and keeps your hairstyle intact for long hours! There are 3 different speed adjustments so you can create different kinds of looks with the same head even!
This product completely removes the need to go to the salon for your hairdos for special occasions, and you can just simply get a dazzling look with just one outlet!
Styling Tips For Your Special Events
The options this product offers are endless, and you can play around trying out funky and classy hairstyles. Let's have a look at some of the styling possibilities!
Automatic Hair Suctioning
If you are looking for a unique and trendy hairstyle, get your 5-in-1 hair styling tool out of your closet and put on the automatic hair suction head. This will curl your hair loosely; you can then tie them up in a cute ponytail.
This hairstyle works very well if you add some flowers around the ponytail– a perfect style for a formal evening. If your attire is a gown or a long bodycon dress, this hairdo will become the prizewinner in no time!
You can use the same hair suction head to loosely curl your hair and wear them down with a nice, loose twist from the front, going all the way to the middle of the back of your head. Tie both twists with a shiny ribbon or a flower stem.
This hairdo works great for daytime parties where floral themes are common, and you are wearing a sundress with minimalistic jewelry and sandals.
Hair Dryer Head
The most important and the most favorite tool included in this kit is this hair dryer head. I absolutely loathed storing that huge hair dryer and its various types of heads for my blow dries, and this product just made my life easier!
It blow dries your hair better than a salon, and you can style them in so many cool and stunning ways. A blow-dry is usually a casual kind of thing, but let me tell you how you can turn a basic blow-dry into a fancy hairdo for a sexy date night.
Fit in the dryer head and dry your damp hair first. When they are fully dry and puffy, brush them with your regular hair brush. Make sure they are all detangled. Then take your BIME hair dryer and start rolling your brush inwards as you slide the dryer along.
This gives your hair a sleek look. Once that is done, you can part your hair right from the middle, and take 3 thin strands from each side. Braid them together till the back and tie them up with a fancy clip. Wear the rest of your hair down– you can add some rhinestones for a dazzling touch too!
Curling Iron Handle
The curling rod is something that every woman should have because who doesn't like some loose curls, right?
With the curling iron handle, you can style your hair in so many fabulous ways– loose curls, tight curls, beachy waves, ribbon curls, flat curls, and whatnot!
And when you have decided which curl style to go with, you can then decide whether to keep them down as they are, or style them in some other bougie way. For example, you can have a high, messy bun with half of your hair, and leave the rest down with loose curls by the ends.
That makes a very stylish casual look that you can wear with your daily wear tank top and jeans– whether you're going for a movie or a shopping trip, this hairstyle will do wonders for you!
You can even use this wand for your wedding hairstyle, and you'll save a fortune by not going to the hairstylist for this pretty and elegant hairdo. Just simply curl your hair loosely for beachy waves and part them from the middle.
Now you can either braid from each side and join them together with a vine of flowers, or you can do a waterfall braid and attach tiny flowers or pearls at each braided interval. Leave the curls down loosely to give a sultry look!
And you don't have to worry about the longevity of the curls because the curling iron reaches optimal heating levels which keeps your curls the same for long periods without causing any serious harm to them.
Now you can have long-lasting, lustrous curls to flaunt every day within a matter of minutes!
Half-Angle Comb Head
For quick straightening, this half-angle comb head is a game-changing tool. With optimal heating, you can get harmless straightening right in your bedroom within minutes!
Straight hair is a classic, and you can never go wrong with them on any occasion. Whether at a wedding, a party, a date, or even work, you can always rock the straight hair look very easily.
The comb head makes straightening super easy as well– it is just like brushing your hair normally, but there is a plus point– you are straightening your hair at the same time too!
This is especially a great tool for those girls who have frizzy or wavy hair texture because it removes that frizz and adds a sleek, shiny look to your hair, which in turn gives them a beautiful and healthy look!
This, however, won't fully straighten curly hair. You can remove the frizz with it, sure, but it will not straighten down your curls. For that, you will have to use a straightener.
You can style your hair stress-free, and wear them down confidently as it will be looking as smooth and shiny as ever! Flaunt those sexy locks on your next date night with this 5-in-1 hair styling tool by BIME.
Curly Round Comb Head
This is yet another great tool to curl your hair or add light waves to your hair. Super gentle on the scalp, this brush helps you get a lustrous yet classy hair look for all your special events.
It is especially a life-changing product for those who have a lot of frizz in their hair, and those whose hair is static most of the time because it has been designed to eliminate both of those problems!
It also minimizes the tangles in your hair and gives you a comfortable styling experience. You can use it every day as it is super safe and has been designed in a way as to not burn or harm your hair in any way.
Now, get super stylish curly locks within a matter of minutes with this curly round comb that will help you achieve peak styling!
You can use this to create a casual everyday look– just plug in the wand after you put on this head, and start brushing your hair with it. Take small strands for best results. Twist and twirl the brush in an inward direction slowly to get a wavy look.
Once you're done with all strands, give your hair a final brush with it, and bounce them a little. And voila! You have yourself your favorite daily wear hairdo!
Wrap Up
The BIME 5-in-1 hair styling tool is a staple product for every woman who aspires to become a fashion diva or at least a trendy woman in her circle.
A great and super reasonable substitute to the hair styling tycoon, Dyson, this product can easily win second place in being the best hair styling tool in the market.
It is incredibly multifunctional, and it gives you so many options and a vast array of possibilities to create unique and stunning hairstyles for your special occasions.
It is also incredibly safe to use, and hence, a great product for daily use– perhaps for college hairstyles, or work styles. I would say this product changed the way I style myself. It just added that dazzle to my looks that I had been trying to find, and I am super glad for it to exist.
It is a must-have for college-going girls, working women, and even socialites and fashion divas that attend cocktail parties, tea parties, luncheons, and whatnot on a regular basis.
All in all, this is an incredible product, and if you are also tired of storing multiple hair styling tools, and are frustrated by the mess it leaves, this product will become your savior!