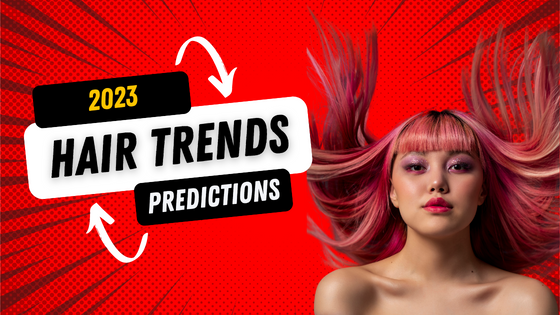 SWEEP IT UP! THESE ARE THE BIGGEST HAIR TRENDS FOR 2023
A good opportunity to assess your routine and determine whether you're ready for a change is at the end of the year. The finest way to start a new year is with a brand-new haircut.
Obtain advice from Jaye Edwards, owner, founder, and colorist of EdwardsAndCo, if you're prepared to make the cut or make other changes. The trends that are anticipated to be quite popular in 2023 are known to Jaye.
We asked him to share his top trends for the new year with us so that we could benefit from his knowledge and get a head start on the haircuts, cuts, and colors that are anticipated to be hot in 2023. (Along with a few cheeky ones of our own).
STYLE
The flip bun
Do you put your hair up in a bun at night to tidy up? Yes, that is the one. It's common and not only in your bathroom. Because it has a certain can't-be-bothered cool-girl edge, try wearing it to occasions where you would typically put out the effort. like, for instance, a black-tie event or a nice girls' brunch. We're here for the flip bun since it's a simple hairstyle that requires minimal work to achieve. 
The classic blow dry
Instead of asking your hairstylist to style your hair in waves after your appointment, the plain, classic blow-dry has taken over. By omitting the wand stage in your usual styling routine, you can let your blowout speak for itself. Oh, she's bouncy.
The side part
To obtain some air, change up your usual down-the-center style with a deep side part (literally). Whatever the length of your hair, experimenting with how it lays can naturally add volume and give you a trendy appearance that makes you look like you just got off the beach.
CUT
High-textured bob
Unexpected information: bobs don't necessarily have to be short and trim. This summer, it's likely that many people will be seen sporting above-the-shoulder chops. To provide the impression of greater thickness and depth, add jagged layers and texture to this length. blink again. This lived-in look offers a whimsical alternative to the overly regulated style for a low maintenance, more casual approach to mane taming.
Bardot bangs
Hello, you huge flirt. Due to their carefree, French-girl unkempt appearance, Bardot bangs are currently fashionable. By contouring your face with shorter lengths that start in the middle and go out through the temples, this is a terrific way to add interest to your appearance.
Shullets
A modern interpretation of the mullet is the shullet, often known as the wolf cut. Without having a single distinguishable cut, the shullet can range from an extreme version with layers chopped choppy to give the appearance of the silhouette of the style, saving you from having to go full Joe Dirt on your mane.
COLOUR
Rich brunette
If you find yourself suddenly wanting to keep things darker, put the blame on Hailey
and not La Nia. Change your bleached hair for a warm, rich, and dramatic tint like Mrs B if you want to stand out in 2023. This hyperfeminine, carefree color represents our cultural transition toward a more organic view of beauty.
Strawberry blonde
Who turned up the heat, wow? Peachy, copper, and strawberry tones are classic and will brighten more subdued reds while adding warmth to your sun-kissed complexion.
90s blonde
Your closest relationships are under its control, and now it wants to take over your hair. We are moving away from lowmaintenance golden blondes and toward a buttery tone that requires regular glossing and high-quality products to maintain as the 90s hairstyle is making a major comeback.
Bronze balayage
Whatever you may have heard, balayage is a timeless fashion. This particular color is great for brunettes looking for a low-maintenance way to brighten things up and bring warmth to the face. This shade is still well-liked for a good reason and has a natural, worn-in effect. Fake your suntan appearance!
Hair Colors You'll Be Asking For In 2023
The fact that 2022 is already coming to an end is astounding. Moreover, what a year it has been! full of spooky historical events and pop culture moments, not to mention innumerable trends. With the emergence of low-rise jeans and micro-mini skirts in 2022, Y2K fashion made a comeback. We also want to see more of the many vivid and expressive hair and makeup ideas that were popular this year. Even though it's hard to say goodbye to 2022, as we go into the new year, there are even more fascinating patterns to look into.
In the new year, it's recommended to make fresh starts, and one of the finest ways to feel entirely rejuvenated is by changing your hair color. If you want to tweak your look or completely reinvent yourself in 2023, there are a variety of hair color trends to pick from. A list of some of the social media trends from the previous year that we predict may go viral has been put together by us. The array of blondes, brunettes, auburns, and brilliant fashion colors truly has something to offer everyone. In addition, we've provided expert advice on how to maintain and wear these 2023 hair color trends.
Celebrities are setting trends with golden brown colors
Warm, natural-looking brown tones are predicted to become more popular in the coming months. Hailey Bieber is one celebrity that prefers golden brown tones like these to blonde. The virtually undetectable high and low lights give it a more lustrous and opulent appearance even though the shade appears to be a plain brunette. The most typical brown tones will always have a continuous undertone of golden and honey. Josh Wood, a hair colorist, and owner of the Josh Wood Atelier, spoke with Neta-Porter about the trend and
stated, "It is still necessary to define this color. In comparison to the inclusion of several highs and lows, one flat hue will appear glossier."
The warm tones also lighten your skin tone. If the darker color is making you look too pale, add more warm, golden highlights to brighten the shade. Nicola Clarke of John Frieda advised people with naturally lighter skin tones to hold off on going too dark. She said, "your hair may feel a little boring if you are losing your summer tan," after going from brighter blonde tones. To avoid getting excessively dark, keep in mind that tans always fade.
Stylists predict all shades of red
On Instagram and TikTok, stunning red hues have been everywhere, and this trend isn't going away. One of red's strongest traits is its adaptability. From deep red to
strawberry blonde, there is a color for every skin tone, and you can expect to see them all in 2023. Ipsy was urged to "look out for an abundance of deep, warm reds, conjuring the cozy vibes we all need right now" for the winter by The Bird House co-founder and hairstylist Brooke Jordan.
Despite the fact that we'll see a lot of vibrant and deep ginger colors, there are more understated ways to incorporate this trend into your design. For brunettes, think of a warm red-brown. This is the excellent transition shade to try some auburn tones and see if you like them before totally committing to the redhead look. It's a brown tint with slight red highlights that are brown in color. Hairstylist Irinel De Leon told Women's Health that this is the ideal shade to dip your toe into the redhead craze. It is a more subdued version of the movement toward copper.
Kendall Jenner makes copper hair craze
While red hair in general is in vogue, copper red in particular is becoming more and more common. It's a warm, orangey-golden color that looks great on anyone who wants to pass for a vibrant redhead." The copper hair trend became popular after Kendall Jenner walked in the Prada autumn/winter 2022 show and received 123 million views on TikTok. Although it is a lighter hue, it may be altered to match any skin tone and undertone."
Hairstylist Min Kim predicts that people with curly hair will embrace this trend the most. Natural curls have gained popularity over the past few years, and this brilliant color only makes the ringlets pop out more. Kim remarked: "Curl color trends will be heavily influenced by bright, vibrant copper. These soothing and powerful crimson shades go perfectly with the effortless sexiness of natural curls."
 CONCLUSION
Jaye Edwards, owner, founder, and colorist of EdwardsAndCo, shares his top hair trends for 2023. The flip bun is a simple hairstyle that requires minimal work to achieve. This summer, it's likely that many people will be seen sporting above-the shoots bobs. The year 2022 is coming to an end, and here are some of the hair trends you'll be asking for in 2023. A list of social media trends from the previous year that we predict may go viral has been put together.
Expert advice on how to maintain and wear these 2023 hair color trends. From deep red to strawberry blonde, there is a color for every skin tone in 2023. You can find all of the latest hair tools at BimeBeauty.com